back to insights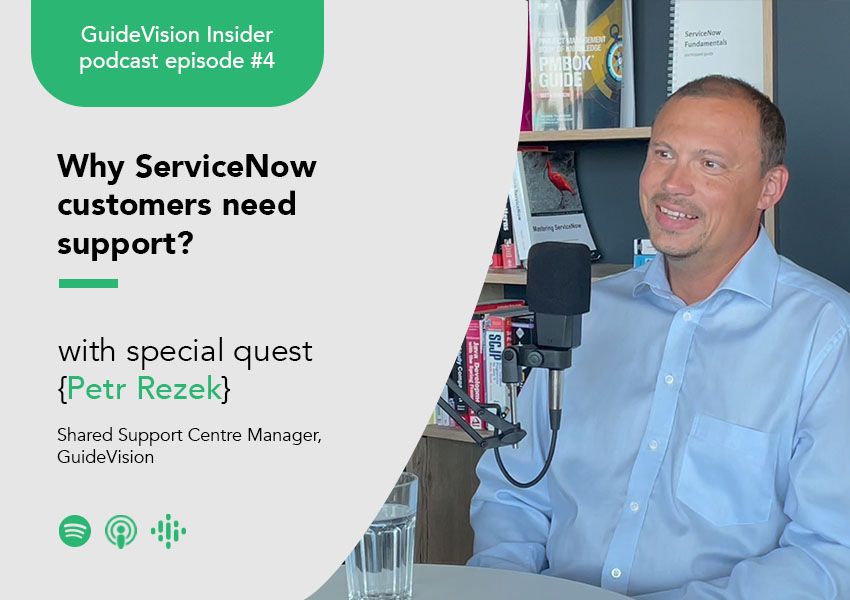 The new episode of the GuideVision Insider podcast features Petr Rezek, Shared Support Centre Manager at GuideVision. It's clear he's spent a lot of time explaining his support work to customers, but he's also good at explaining support to us.

"Universal Soldiers"
What are the skills that make a great support team member?
- Wide skillset with good technical understanding
- Persistence in getting to the root of problems
- Communication with the customer and fellow team members is probably the most important of all.

How he and the team deal with stress
Depending on the situation, support incidents can be stressful, especially when ServiceNow is a critical piece of a company's infrastructure.
- Working as a team helps to share the burden
- Working in the same office solves problems faster and more effectively
- Letting team members know they're not alone in solving problems is crucial

The GuideVision Insider podcast gives you insights behind the scenes at GuideVision, one of Europe's leading ServiceNow partners, as well as goings-on in the larger ServiceNow community. You can subscribe to the GuideVision Insider podcast with your favorite podcast provider, or watch the entire half-hour interview above.
Subscribe to our newsletter
Thank you!
You have successfully subscribed to our newsletter.
Please enter your details