back to insights
next insight
The long-term partnership between KBC and GuideVision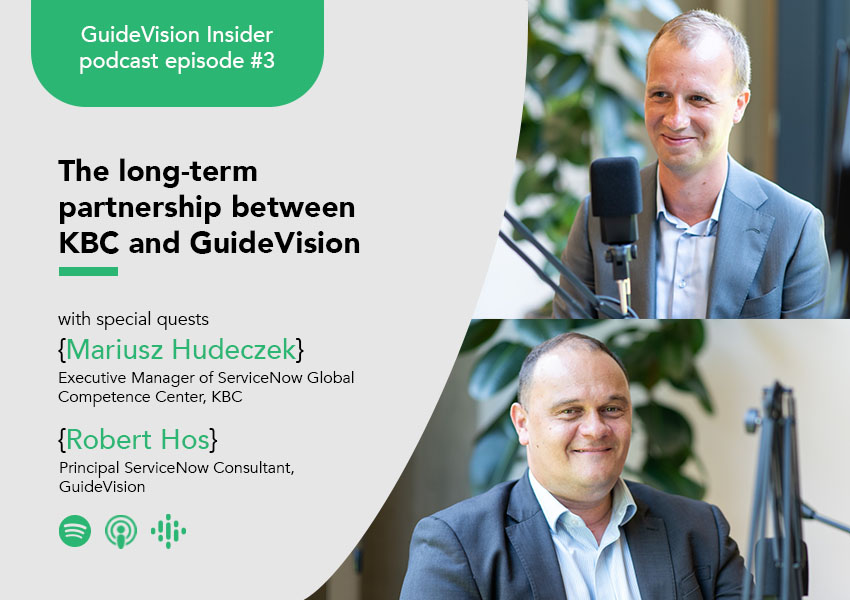 The KBC Group is a major financial services player in several European countries. Several years ago, they chose GuideVision to successfully implement ServiceNow to serve its 49,000 employees. Today GuideVision jointly operates KBC's ServiceNow Global Competence Center, which is in charge of all things ServiceNow at KBC.

In the latest edition of the GuideVision Insider podcast, KBC ServiceNow Global Competence Center Executive Manager Mariusz Hudeczek and GuideVision Principal ServiceNow Consultant and Team Leader Robert Hos talk candidly about cooperation and good chemistry.
Reaching out
KBC decided to work with GuideVision because they saw that they couldn't staff a ServiceNow center on their own. GuideVision's consultants work directly with KBC at the headquarters of the Czech subsidiary ČSOB.
Teamwork
Hudeczek is satisfied with the way KBC and GuideVision work together. As he sees it, there is only one team, the one that addresses their colleagues' needs.

- "I am really very satisfied with the flexibility that GuideVision gave me. And we have a really good partnership because we know each other for a longer time."

- "GuideVision knows KBC's roadmap, so we can really balance our needs, and we were always able to agree on resources, knowledge, etc. And this is what I really appreciate from GuideVision."
Uptime is crucial
Today's bank services need constant uptime, Hudeczek says. And while the ServiceNow team isn't directly responsible for server uptime, they are responsible for the processes that ensure that everything runs smoothly.

Incident management is one of the most important parts of the work. Why? "Imagine you have money in the bank and the system is down," Hudeczek says. If a bank doesn't have proper incident management, they can't tell you when you'll be able to get your money.

ServiceNow forms the backbone of incident management at KBC, as well as configuration management, change management and many more processes in the banking group.

Not just ITSM
The Global Competence Center helped KBC automate more of its business processes during covid, and that has only accelerated.

Integrated Risk Management is next on the agenda. Governance risk and compliance are playing an increasing role, and the Global Competence Center is ready to leverage ServiceNow to support the processes.

Developing ServiceNow talent
The KBC ServiceNow Global Competence Center has a strong focus on talent development. "Frankly, I prefer to work with a stable team that I don't have to explain every second month what we are, who we are, why we are here, etc," he says.

Many GuideVision principals have come up through the GCC, Hos explains. "We are trying to give people a place to grow. They get chances early on in their careers basically."
The GuideVision Insider podcast gives you insights behind the scenes at GuideVision, one of Europe's leading ServiceNow partners, as well as goings-on in the larger ServiceNow community. You can subscribe to the GuideVision Insider podcast with your favorite podcast provider, or watch the entire half-hour interview above.
Subscribe to our newsletter
Thank you!
You have successfully subscribed to our newsletter.
Please enter your details