back to insights
next insight
The latest knowledge shared at GuideVision's RADAR event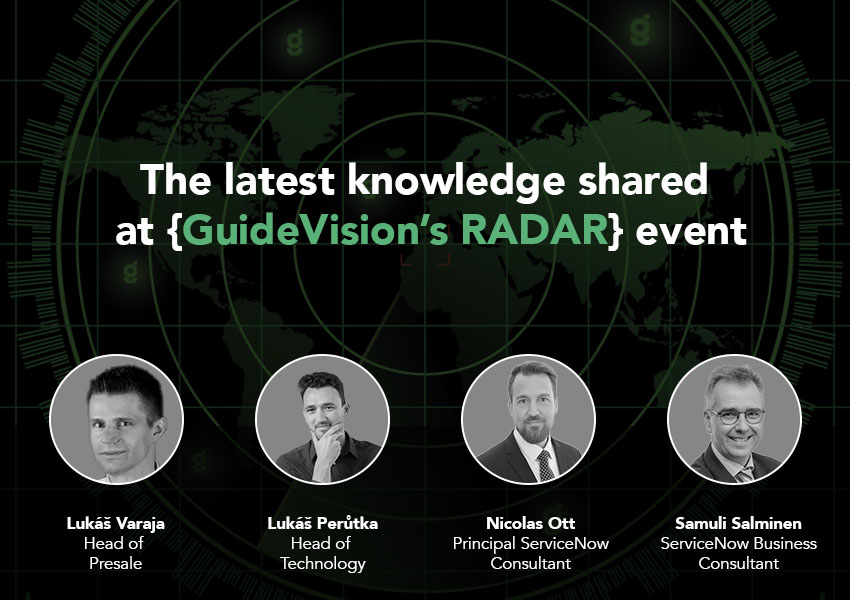 GuideVision's quarterly RADAR knowledge-sharing event is a way for team to share their specialised know-how with the rest of the company. Talks are diverse, and can range from deep dives into ServiceNow features to high-level overviews of management issues. The most recent RADAR featured talks on risk management and field service management in ServiceNow, the importance of good data for Six Sigma decision making and educational opportunities for GuideVision staff. Interested? Read on.
Risk management in ServiceNow
Lukáš Varaja, GuideVision's head of presales, talked about risk in both general terms and specifically how ServiceNow's risk management application works.
He presented examples of the common challenges organisations face, including the rising cost of global compliance, greater reliance on third and fourth parties, pandemics and extreme weather, increasing reputational risk, disengaged employees and disconnected tools, systems and processes. These impact both how people work and the bottom line for companies.
ServiceNow can help by embedding risk and compliance into daily work and integrating it across the enterprise, Lukas explained. This helps to break down silos, reduce costs and builds a risk-aware and compliant organisation. It also improves business decisions and reduces regulatory exposure.
ServiceNow's risk management application has four main processes: Identifying risks to the enterprise presented by the existence of internal and external threats and vulnerabilities; evaluating the impact that such risks would have on the enterprise if they actually occurred; prioritising responses to risks according to the impact and likelihood of a risk occurring; and addressing the possibility of a risk occurring.
ServiceNow's risk management plugins include heat maps that help managers evaluate the most important areas to address, both in terms of likelihood and potential cost. As this draws on information from throughout the system, it can provide regularly-updated and actionable information for decision makers in the organisation.
Field Service Management is not ITSM
Principal ServiceNow Consultant Nicolas Ott presented ServiceNow's Field Service Management application and the ways it can be used for companies. But to start with, he needed to explain the difference between IT service management and field service management.
ITSM is assumed to be on company premises, while field service management occurs outside. Any process that is supported by equipment off the company's premises can be considered field service management - with a good example being ATMs.
ServiceNow's field service management application includes a number of modules that can make life much easier for companies doing business in the field. These include things like dynamic scheduling, parts sourcing, skills management among field employees and geolocation and navigation features, and work both on desktop and mobile.
Another logical and very useful feature in field service management mobile application is an offline mode which enables users to sync data when they get a signal. Users can also sync data in advance, ensuring that they head into the field with the latest information.
ServiceNow's field service management application also includes signature management features, which are especially useful for when customers take acceptance of their service.
Nicolas also provided an overview of new field service management features in the ServiceNow Paris release. These include contractor management, FSM customer experience, CSM integration, dynamic scheduling, inventory management and an agent history map, which provides review of past tasks.
Good data ensures good decisions
ServiceNow Business Consultant Samuli Salminen shared an experience he had that taught him about the importance of having good data for business decisions.
For background, he explained the concept of Six Sigma, which is a set of techniques and tools for process improvement. Six Sigma strategies seek to improve the quality of the output of a process, and accurate statistics play a key role.
Samuli presented a case study from his experience before he joined GuideVision: at a Fortune 500 company, it took nearly double the amount of time to resolve incidents than was specified in the normal service level agreement.
In Six Sigma, there's a concept called CTQ, or critical to quality, and in this case it was to improve the overall incident management performance in order to meet the defined SLA. Following on this, the goal was to improve the incident mean time to resolve to achieve better end user satisfaction and incident process performance.
Because the company used ServiceNow, they were able to automatically track various data on the time it takes to resolve issues. This data was then used to determine their actions, including making sure the Incident State was used correctly. This then led to actions for improvement, followed by additional statistics and analysis of the results.
The result of all this was that the company radically cut the time it took to resolve the incidents. The fact that based on good data, good decisions can be made, was proven with this statistical approach to improving business process performance.
Today ServiceNow has the Performance Analytics application, which provides this functionality out-of-the-box. Before applications like Performance Analytics, it would take an entire project just to gather data like this, but now you can quickly and easily analyze the performance of any process in your ServiceNow platform. Get in touch with GuideVision and we'll guide you through analyzing and improving your company's process performance.
Education at GuideVision
GuideVision Head of Technology Lukáš Perůtka provided an overview of education opportunities that GuideVision team members have available to them.
Lukáš explained that GuideVision recognises the importance of continuing education, not just in technology-based skills and various ServiceNow certifications such as ITIL, PMO and QA, but also in "soft" skills such as communication, presentation, legal and leadership.
As Lukáš explained, there is a 10-20-70 model for learning and development, where 10% is theory and training, 20% is collaboration and feedback and 70% is work experience.
At GuideVision there are several paths an employee can take, with the main ones being as a ServiceNow consultant, business consultant, project manager, QA engineer or QA designer. There are also project paths, which include an architecture path, an engagement path and a support path. Various education and certification opportunities arise based on the path one chooses.
GuideVision also has an internal training resource, GV Academy, and employees can track their development on an intranet. He also reminded staff to make sure their listing of educational achievements is up to date, including certifications, and that the appropriate educational plans are assigned based on positions and project roles.
Interested in finding out more about RADAR and other opportunities? Join the GuideVision team! We're hiring in a number of areas.