back to insights
next insight
RADAR 41: ServiceNow's focus on industry products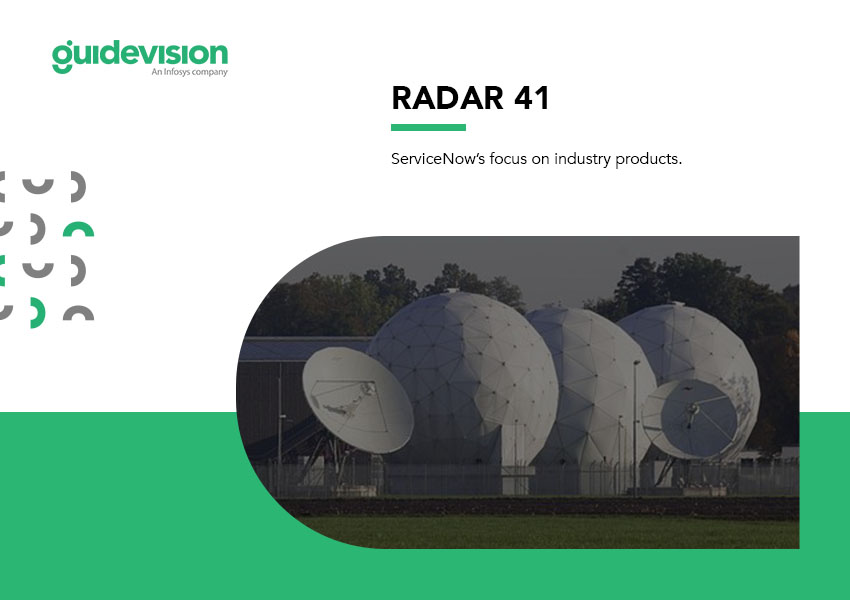 By Martin "Kay" Žák
Principal ServiceNow Consultant at GuideVision
ServiceNow has made no secret of its goal of reaching USD $10 billion in revenue in the next few years. With current revenue of around $4.5 billion last year and approximately 30% growth over the past few years, these numbers don't seem far-fetched. But how will the fast-growing company get to that goal?
One of the ways involves industry-specific solutions based on the Now Platform. The company has already started to hire domain experts in specific industries, and has identified some of the first industries they would like to target. They will codify solutions to use cases and use the Now Platform as a force multiplier.
Some of the sectors ServiceNow is focusing on include financial services and health care and life sciences (2020), with telecom, media and technology and manufacturing in 2021. Government, retail and hospitality, education, transportation and logistics, energy and utilities and service providers are being considered for future products, but are not yet planned.
Let's take a look at some of these industry solutions.
ServiceNow and financial services operations (FSO)
Unprecedented disruption, both due to the pandemic but also to digitisation, requires a transformation of financial services companies' back-office operations to ensure future growth and flexibility.
Pressure from fintech companies poses a great challenge to traditional financial companies due to their relentless innovation. Consumers no longer compare their experiences just among banks, but in other industries as well. A recent survey, for example, showed that young people would trust Google more with their money than other financial institutions.
One way financial services can fight back is to provide their customers with great experiences. This requires companies to empower associates and tap into the workforce's full potential. Financial services companies should also enhance and differentiate customer experiences, and deliver high-touch, high-tech, multi-channel experiences for their customers.
ServiceNow makes it easy to map industry-specific service definitions to business services and provides several workflows out-of-the-box for processes such as card operations (i.e. open/close card), payment operations (i.e. claims or debit approvals) and loan operations (i.e. loan repayment). When business and technology workflows are linked, the system can notify people proactively and in real-time about information that impacts them. Machine learning can also be used to predict issues before they happen.
ServiceNow and Healthcare and Life Sciences
There are multiple business imperatives driving digital transformation in the Healthcare and Life Sciences (HCLS) space. On the operational side, the goal is to improve operational efficiency to reduce the cost of providing care. On the financial side, the goal is margin improvement with a focus on identifying new opportunities for revenue growth. From a clinical perspective, there is a change in strategy from fee for service to patient-centric care, focusing on patient outcomes.
The Now Platform underpins digital transformation in the healthcare and life sciences space. This relates to everything - IT workflows, the healthcare and life sciences service management based on the health care data model and standards such as FHIR for health care data exchange and HITRUST for secure data.
ServiceNow and operational technology management
Another area key to ServiceNow's continued growth is operational technology management (OTM). This is because of the rise of Industry 4.0, where technologies in manufacturing environments are increasingly complex and integrated. Managing and securing operational technology (OT) is crucial to ensure reductions in unplanned downtime, protection against cyber-attacks, minimising human error, and making cost reductions.
Companies whose executives downplay the mission-critical nature of OTM would be well advised to remember a few basic facts about the manufacturing sector. The first is that manufacturing is the second-most attacked industry - up from 8th in 2019, according to the X-Force Threat Intelligence Index. The second is that the average cost of one hour of downtime for a manufacturing company is between USD $250 thousand and $700 thousand, according to a survey conducted by Harbor Research. The third is that according to a 2019 survey conducted by McKinsey, 60% of heavy industrials reported a breach in their ICS or SCADA.
ServiceNow's OTM solution helps companies build a solid OT data foundation. This lets companies define levels of critical infrastructure using the Purdue Model to define the different levels of critical infrastructure used in production lines. Companies can populate OT assets data from OT security providers using OT Certified Service Graph Connectors. The greatest benefit of this approach is that once the data is in ServiceNow, customers can use the ServiceNow Vulnerability Response application to avoid security breaches. Finally, companies can aggregate data from various sources into multisource CMDBs, including data from spreadsheets using ServiceGraph for Microsoft Excel.
Telecommunications Service Management
Another key growth area ServiceNow has identified is in telecommunications service management (TSM), which incidentally is an area where GuideVision has extensive experience. The drivers in the telecoms industry include paths to growth, utilising things like 5G and cloud solutions; reducing operating costs; and optimising customer experience.
ServiceNow's TSM solution involves several separate applications that come together according to the customer's needs. At the core are ServiceNow solutions for expanded ITSM and the configuration management database (CMDB). The Incident solution offers five different workflows for network-initiated events, providing even better analysis capabilities for issues affecting the customer.
GuideVision's RADAR is an internal knowledge-sharing platform whose overall goal is to boost and enhance internal knowledge sharing. We publish summaries of selected presentations from RADAR both as a way to inform the overall ServiceNow community and as an insight into the way we work. If you're interested in learning more about careers at GuideVision, find out more here.
Subscribe to our newsletter
Thank you!
You have successfully subscribed to our newsletter.
Please enter your details