back to insights
next insight
Mobile apps and ServiceNow - easier than you think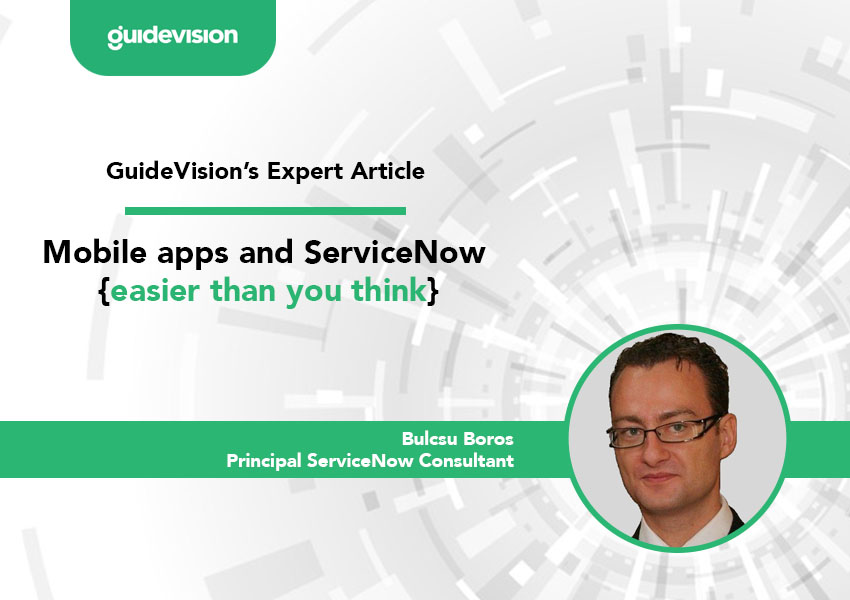 It should be clear by now that mobile technology is here to stay - one recent World Bank study showed that there are more mobile connections than there are people in the world.
Yet, for a number of different reasons, a large percentage of ServiceNow users have not yet made a serious commitment to making their ServiceNow experience available on mobile. The opportunity is clear: Today's smartphones open up a number of uses in the field and can harness the power of ServiceNow's cloud architecture and robust APIs.
From weeks and months to days and hours
Developing mobile apps used to be an expensive and time-consuming process. But ServiceNow has made significant investments into Mobile Studio toolset, and the process of creating an app is surprisingly affordable and fast - hours and days as opposed to weeks and months. In one case, a company's CTO made a mobile app based on ServiceNow's Mobile Studio in a few hours.
At GuideVision, we make extensive use of an important aspect of the ServiceNow mobile studio to keep the time and cost down: Apps are intended to be low-code or no-code, which means that there is essentially no programming. Instead, the apps use pre-defined out-of-the-box functions and templates, and the largest amount of work is to configure the app in the way the customer requires. The app itself is written by ServiceNow, and it is available for both iOS and Android phones. The app has already been approved in both the Apple App Store and in Google Play, which means that there is no waiting for the approval process to run its course.
The speed with which a ServiceNow mobile app can be created is surprising. "If you are not going with a totally branded solution, you can see the result instantaneously in the application. The settings for the toolset are predefined. What you're doing in the Mobile Studio is configuring this. It's just a few megs of data," explains Bulcsu Boros, a principal ServiceNow consultant at GuideVision specialising in mobile development.
Three apps for three purposes
The ServiceNow Mobile Studio enables the creation of three different mobile apps to meet customer needs: Agent, Mobile and Onboarding. Each follows the same low-code/no-code approach, and they are intended to be easy to create and easy for end users.
The Mobile Agent app is intended for managers, off-site technicians and ITSM agents. Its primary use case is for handling IT incidents, and one of its useful aspects is that it works offline; technicians in the field may not have a functioning internet connection, but can still input relevant information about the incident and have it uploaded when a connection is restored.
The Now Mobile app is the most feature-rich of the Mobile Studio apps, and is intended for all employees in an organisation. It provides access to all ServiceNow functionality, including the Service Catalog, Knowledge Base and Virtual Agent.
The Mobile Onboarding app is intended for new hires just starting at a company, and provides a mobile interface to ServiceNow's HR functions. It handles onboarding functions for new hires and allows them to fill out and signforms and also access new employee materials right on their smartphones.
Communicating with ServiceNow through APIs
Mobile apps created in ServiceNow's Mobile Studio are essentially an add-on to an existing ServiceNow cloud instance. The main functionality is created in ServiceNow, and the mobile functionality is set up on the server side, with a powerful set of packaged design elements and layout templates that enable anyone to rapidly create native, engaging experiences.
Apps in Mobile Studio are intended to be no-code, meaning that creating an app is a matter of dragging and dropping various components and then changing their configurations, with no code written at all. In certain cases, JavaScript can be used for complex conditions, but this does not occur often.
The no-code approach in mobile apps is based on previous experience. Early mobile apps involved too much customisation, which then required separate approval in the app stores and a then maintenance after the app was completed. This proved to be costly and time-consuming for customers.
By contrast, no-code on the mobile side also assumes a design approach in the ServiceNow instance overall. It is easier to create and maintain no-code mobile apps if the ServiceNow instance itself uses out-of-the-box (OOB) components.
"On the ServiceNow platform, you configure what you want to provide," Boros said. "In the mobile app you define what you want to connect to. It might be a mobile portal. From the ServiceNow perspective, if there is an application like an IT ticketing system, the user creates an incident. And in the Mobile Studio, you configure the forms that would be created to communicate with the module on the ServiceNow instance."
Templates and tools in the Mobile Studio have been created to correspond to modules on the server side, such as Knowledge Base, Boros explained. These templates have been designed and optimised to work with smartphones' smaller screens, as well as to be able to deliver a mobile-first experience. They provide some opportunities for customisation, such as to include a company's logo or colour scheme, but the overall intention is to keep design customisations to a minimum.
Barriers to entry
Thus far, ServiceNow customers uptake of mobile apps has been slow. Boros explained that one strong reason why it has not been utilised by customers yet is that many customers have already built heavily customised solutions in ServiceNow, but because of the Mobile Studio's no-code approach, these cannot be easily reused in the mobile applications.
ServiceNow's strength in the ITSM field has also meant that uptake on mobile has not been as great, primarily because ITSM employees tend to work on site. This is changing, though, as ServiceNow starts to expand beyond ITSM into HR, finance, security and other fields. And these fields have many more uses for mobile applications.
Examples of the power of mobile apps
The most effective mobile apps provide access to the most important features of a ServiceNow instance, but then also take advantage of the unique features available on mobile platforms. GPS functionality would be a good example.
Mobile Studio includes several ways to access native mobile OS functions. In one example, agents in the field can see where their fellow agents are on a map. The map and GPS functions are predefined in Mobile Studio, and communicate with the ServiceNow cloud instance.
Other examples that make good use of mobile functionality include phone calling, step-by-step directions for agents in the field, functions that utilise the phone's camera for photos and bar code scanning and signature functionality.
The ServiceNow agent app also includes offline capability in the event that there isn't a strong enough signal. Agents can download the tickets and connected data they want to work on for times when they are offline, work on them offline, utilise the touchpad to sign documents and then synchronise everything when they get back into signal range.
"ServiceNow is a cloud application," Boros said. "You can download all the necessary items to your mobile application - it doesn't necessarily need to be worked on on a desktop," he added.
This arcticle was written by Bulcsu Boros, Principal ServiceNow Consultant at GuideVision.