back to insights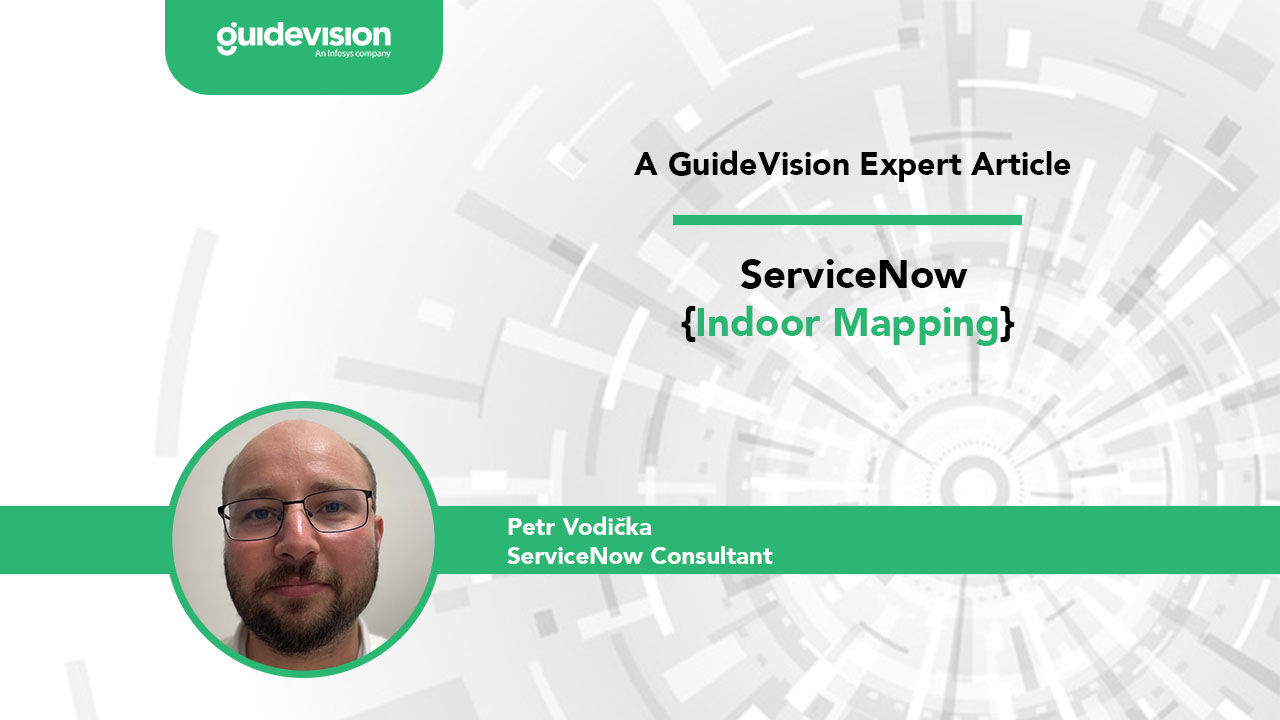 By Petr Vodička
GuideVision Technical Consultant
One of the more interesting new features ServiceNow has introduced recently is indoor mapping. ServiceNow's indoor mapping is designed to help companies keep better track of where their resources are located geographically.
Post-pandemic, as a growing number of companies deal with not only a return to the office, but are also starting to make use of flex desks, knowing which rooms are where, which employees are where and also which equipment is where, is increasingly important. Indoor mapping also plays an important role in room and area booking.
Indoor mapping in ServiceNow's Workplace Service Delivery suite
ServiceNow's indoor mapping is part of the Workplace Service Delivery suite, which supports the management of the hybrid workplace. With indoor mapping, employees are better able to navigate to certain places, as well as providing management with opportunities to make the workplace safer.
Reservation management is an important part of ServiceNow's Workplace Delivery Suite. It allows not only room and area booking, but also desk booking, which is important for making sure there are enough resources for employees who come into the office infrequently. This includes things like visitor access badges and registration as well.
ServiceNow's Workplace Delivery Suite also provides functionality relevant to health and safety, as well as for managing the costs associated with rooms and spaces your company utilizes. In addition to managing the rooms themselves, you can define the equipment in each room.
Interactive features in ServiceNow indoor mapping
With indoor mapping, users have the opportunity to interact with a map that you set up for them. Admins configure the map, which includes a surface layer listing individual rooms as well as points of interest, such as where desks are located. In addition, equipment such as coffeemakers and other equipment can be tracked.
Then, through the portal or through a mobile app, users can find these resources, interact with them and even book them. This includes wayfinding, which can sometimes be a challenge. With indoor mapping's wayfinding, you can find your way around the office with the optimal route. That's important for both abled and differently-abled people - people with wheelchairs can find routes that avoid stairs. Although it isn't turn-by-turn as you have in car navigation services, it does show a static map with the path marked out. Indoor mapping isn't entirely new. ServiceNow's Facilities Management included a functionality similar to that in the Workplace Delivery Suite, but that has since been deprecated.
ServiceNow indoor mapping and management tasks
Indoor mapping can help with any number of management tasks. One example is organizing events with external people and internal employees. With indoor mapping, everyone knows what is available and where.
Reservation management also becomes more interactive when users can visualize which meeting rooms are available and at which times with color coding. One useful feature is that you can filter out meeting rooms that are unavailable, or filter out rooms that don't have advanced videoconferencing capabilities.
Indoor mapping has been greatly improved in the ServiceNow Tokyo release, and is undergoing very active development, which means the tool will become even more powerful and useful over time.
You can find out more about indoor mapping at the ServiceNow website. Its documentation is quite extensive.
This article is based on a presentation by Petr Vodička at GuideVision's RADAR internal knowledge-sharing event. RADAR's overall goal is to boost and enhance internal knowledge sharing. We publish summaries of selected presentations from RADAR both as a way to inform the overall ServiceNow community and as an insight into the way we work. If you're interested in learning more about careers at GuideVision, find out more here.
Subscribe to our newsletter
Thank you!
You have successfully subscribed to our newsletter.
Please enter your details