back to insights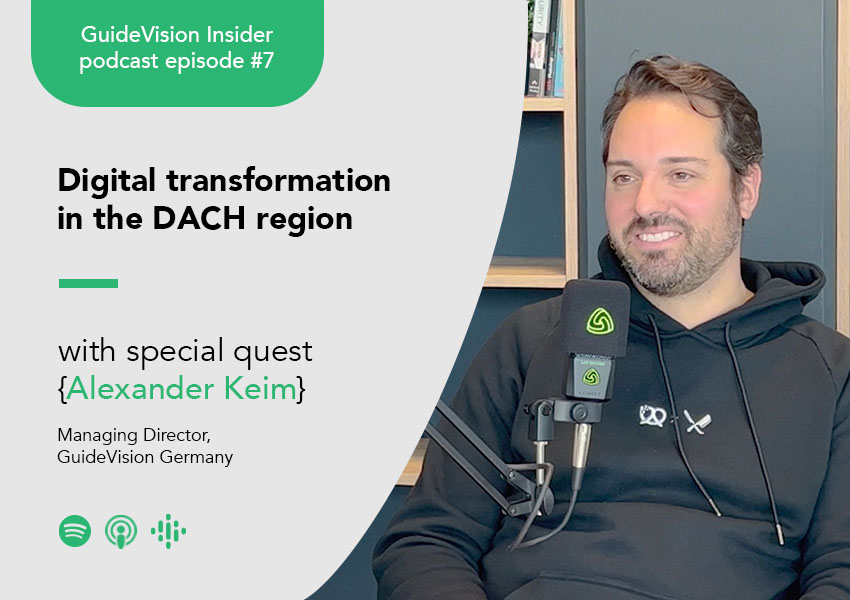 The DACH region - Germany, Austria and Switzerland - has its own set of strengths and challenges with regard to digital transformation. As GuideVision Managing Director for DACH, Alexander Keim has a unique perspective on how the region is performing, and where improvements need to be made. He talks about this in the new episode of the GuideVision Insider podcast, which is now available on leading podcast platforms.
Public vs. private
There is a big gap between private companies and the public sector, and while ServiceNow would be good for the public sector, Alex doesn't see adoption happening any time soon due to over-cautiousness. The commercial sector, however, is making great progress, but more needs to be done.
Watch the unicorns
The growth in business in the DACH region most likely will not come from the traditional manufacturing or finance sectors, which have large headcounts and high energy costs. Instead, it will likely come from startups and scale-ups like Zalando or some of the fintech companies, which are better able to take advantage of economies of scale.
Growing the ServiceNow talent pool
With competition fierce for ServiceNow talent, GuideVision has taken steps to train people in ServiceNow who have not had previous experience with the platform. The first set of graduates of an intensive training program now have their CSA certification and joined GuideVision at the beginning of November. All companies in the ServiceNow community should be taking more proactive steps to increase the number of qualified personnel, Alex says.
Hyperautomation and ABBA
One of the best examples of hyper-automation in action, Alex says, came when he saw ABBA perform virtually in London. He says that now they have worked out the technical issues, there is nothing to prevent them from presenting virtual performances around the world. Hyperautomation depends on having the right information, and as soon as the human input issues are worked out, it will happen quickly in certain businesses, he believes.
The GuideVision Insider podcast is available on all major podcast platforms, and you can watch a video version on YouTube and the GuideVision website (https://lnkd.in/dU8C3Pgu).
Subscribe to our newsletter
Thank you!
You have successfully subscribed to our newsletter.
Please enter your details