back to insights
next insight
GuideVision's Jan Procházka achieves ServiceNow's highest certification - Certified Master Architect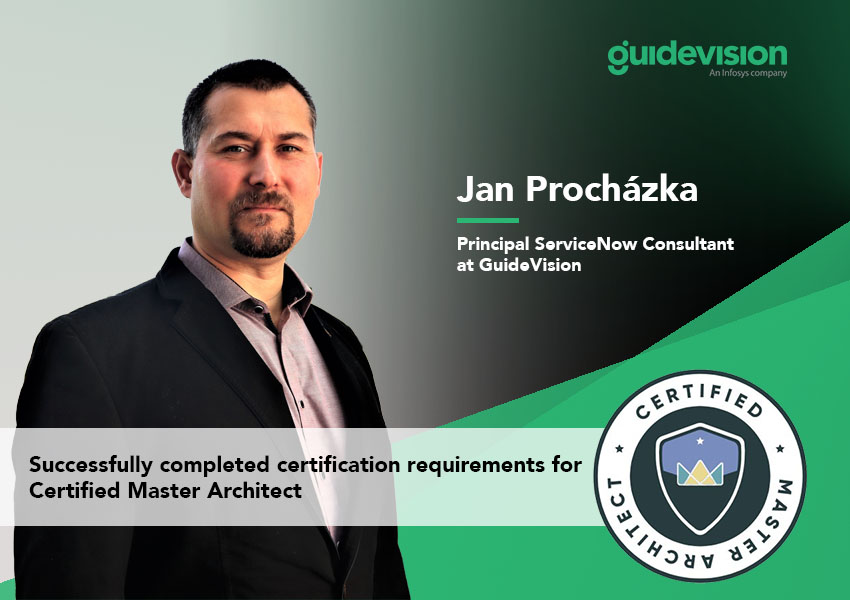 GuideVision Principal ServiceNow Consultant Jan Procházka has joined the most elite group of ServiceNow experts in the world - he has successfully completed ServiceNow's Certified Master Architect programme. There are around 100 experts worldwide with ServiceNow CMA certification.
The Certified Master Architect programme took Jan (his friends call him Honza) seven months to complete, and culminated in an hourlong final board review that he says was one of the hardest exams he has ever prepared for and taken.
"In comparison to other exams I've had during my career, this was much more challenging. The range of knowledge you have to accomodate is really huge, and it is a part of your expected expertise to recognize what is important and relevant and what is not", he says. "It's really different. On top of the skills you should demonstrate, you also have to manage stress so that you know how to react to people."
ServiceNow Certified Master Architect certification is something customers appreciate, Procházka explained. "When a CMA goes to meet with a customer, they have the assurance that they're dealing with a person who has a certain level of knowledge. On the other hand, this comes with a great responsibility for all CMA holders - the solutions they are proposing have to be in the customer's best interest and allow the business value for their organisation to be realised. Sometimes the CMA job also requires the subtle art of saying NO, like when a solution that might look like an easy win at first glance is, in fact, a ticking technical-debt bomb exposing the customer to unwanted risk from a longer-term perspective."
The CMA programme emphasises business value, he explains. "The greatest challenge is to clearly and soundly map any part of the solution you propose to the expected business outcomes. That can be pretty hard for people who are too technical. When you're talking to C-level people, they're not as interested in the details of your technical architecture, but rather in the overall architecture of the solution and its ability to deliver real value," he adds.
At the end of the programme, the cohort of 30 participants from around the world competed a total of 114,900 combined Zoom minutes, 49 webinar sessions and two intensive weeks of immersion events.
"The CMA program became a significant part of my life and daily routine for more than a half of the year," he said. "It was quite demanding time-wise, especially during the final stage when I was preparing for my final board review," he recalls. "But I do not regret a minute invested in it."
ServiceNow's Certified Master Architect programme has been designed as so-called 'cohort-based' learning, where the participants themselves shape the programme. "The programme has a clear structure in terms of the topics the CMA candidate should absorb, but its actual content is co-built by cohort members sharing their own experience from real projects," he explains.
"That's what I think makes the program so unique - people from different companies, environments and cultures together finding the state of the art for specific aspects of ServiceNow projects."
The final board review involved preparing a complete solution proposal for a case study of a global company with more than 100 thousand employees and complex requirements in terms of the number of ServiceNow applications and modules utilized. The exam itself consisted of three hours of preparation followed by one hour of board review.
"In my case, I focused on good practices in the presentation, on the business value. There was a bit on all sides of the project - ServiceNow governance, organizational change management, the technical architecture, security, timelines, future enhanceability - all of these things are architectural pillars of the solution. The leitmotif is that it's not just about the technical solution, rather, it's like putting the most appropriate Lego bricks together to build a robust, trustworthy solution."
Star Trek fans often talk about the 'Kobayashi Maru scenario,' - a training exercise to test the character of cadets in a no-win situation. Jan explained that there were several aspects of the CMA program and the final board review that were similar, "not as brutal as the Kobayashi Maru, but still requiring trade-offs that aren't always easy to make. Should I provide more details to the board on a given topic or divert the conversation politely to save some time for things I consider more important? Is the question raised crucial and do I have to address it, or can I afford to park it professionally to show I have time management fully in my hands?" he explained.
"You really have to play to it. You have to keep your cool," he said. "The amount of stress is intentional. They want to see how you behave in such a situation."
Once it's completed, the evaluation is fair, he explains. "To standardize it, the board uses a rubric which serves as a good clue for what they expect from the candidate. It's based on four specific areas: technical, business, delivery and presentation. You have to succeed in each of them, so it also requires finding the right balance, every second of your exam counts."
Now that he's successfully achieved CMA certification, Jan hopes it will inspire others to do the same. "There's one brave soul who wants to do it and will apply. But a necessary requirement is that they have to be accepted in the program," he said.
Certification doesn't change the nature of his work as a ServiceNow architect. "I'll be able to work more as a high level advisor on projects orienting customers toward various solutions."
One of the most valuable things about the CMA programme is the strong alumni network. "The CMAs are competitors - we all work at various companies that otherwise compete, but inside the program there's great cooperation - we discuss a lot of things there. CMA alumni are a group who have gone through the process, but we're able to work together."
CMA certification requires maintenance, he explains, and a lot of that is in sharing his deep ServiceNow knowledge with others. "Maintenance is something that people have to do in order to keep the certification. You have elements like giving back, participating in conferences, mentoring - these are all things that are required as part of the maintenance."
He is already focused on mentoring his GuideVision colleagues on their own development. "That's an important part of what GuideVision does - they really invest in education."
"You can't be afraid to share," he advises. "A lot of technical people who have aspirations tend to be more introverted - and this kind of program can be painful for them. But this is an American program and they value sharing and engagement. You really have to get out of your comfort zone."
"I would have never been able to do it without my experience at GuideVision," he says. "The experience I've gotten from various areas - not just technical areas - is really key."
"This really is a group success," he concludes.
We are always looking for talented individuals to join our team! Check our open positions.