back to insights
next insight
Employee Center: ServiceNow's new unified employee portal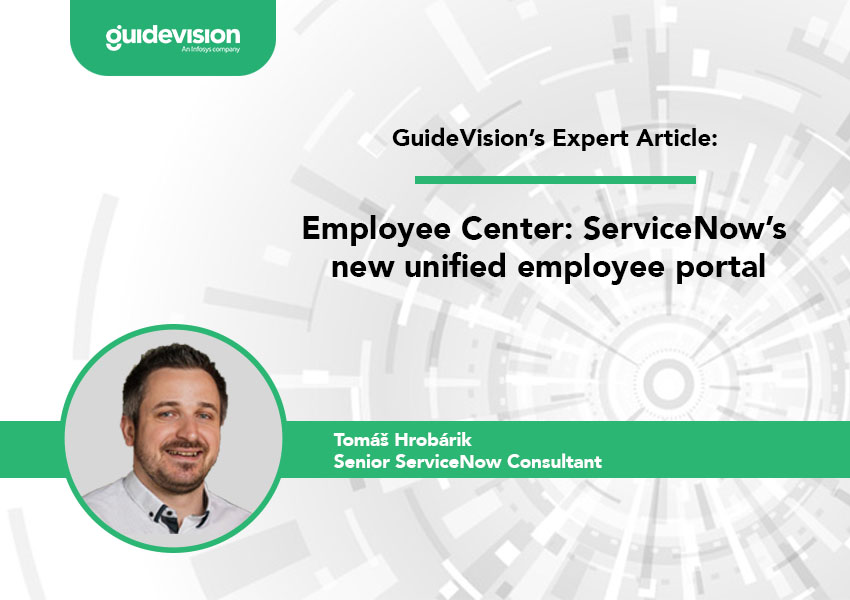 By Tomáš Hrobárik
Senior ServiceNow Consultant, GuideVision
ServiceNow's new Employee Center delivers a modern and engaging experience that drives employee self-service, and we've assembled an overview to get you up to speed.
The ServiceNow Employee Center provides a multi-departmental portal so that employees can stay engaged, productive and informed - and easily request the services they need. With a unified portal, employees can easily get services from HR, IT and other departments. It also makes it easier to scale with cross-departmental services, information and tasks. In addition, it can keep staff updated on company news, resources and relevant information through targeted campaigns.
To understand where ServiceNow is with the Employee Center, it's a good idea to first understand ServiceNow's vision for employee experience.
ServiceNow's employee experience vision
ServiceNow's vision for employee experience is to improve employee productivity by reducing the time and effort employees spend looking for services, updates and information. This vision has three components: To serve, to integrate, and to engage.
ServiceNow's vision for service involves simplifying access to information and services across all departments and through any device. In integration, it involves integrating information from back-office systems and automating common processes. In engagement, it involves engaging employees with personalised, dynamic and actionable communications.
There are several challenges in delivering a great employee experience, and they include having to deal with multiple, disconnected portals to deploy and scale; an incomplete experience out-of-the-box; and a lack of the desired capabilities. Even in ServiceNow, there are three portals used - the Service Portal, the Employee Service Center and various departmental portals.
Customers need a modern, unified employee portal. Their portal experience should easily scale from service delivery to an employee destination site - in other words, a modern intranet. This scalable portal approach starts with service delivery - usually with IT services to employees - but then expands to other departments such as HR, workplace, legal and procurement to offer enterprise services. Along with service delivery, a modern intranet portal also offers employee communication and engagement capabilities.
And that's where the Employee Center comes in.
What is the ServiceNow Employee Center?
Employee Center is ServiceNow's new standard, multi-department, dynamic portal for service delivery and employee engagement. It is available for all customers, easily scales to support multi-department delivery, and creates a curated experience based out of a unified taxonomy.
The new Employee Center in ServiceNow Rome builds upon the Employee Service Center from previous versions. It is one portal packaged as two apps: Employee Center and Employee Center Pro. Employee Center has a focus on multi-department service delivery, enabling employees to report issues, request items or services, find service-related answers, and complete to-dos - even across multiple departments. Employee Center Pro adds employee communication and engagement, enabling employees to stay informed and find cross-enterprise answers.
Both Employee Center apps are delivered via the ServiceNow store for faster innovation. They will likely have quarterly releases for updated versions with new features and functionalities. Employee Center builds upon the Employee Service Center, and customers who are entitled to ESC automatically are entitled to Employee Center Pro.
Another important aspect of the Employee Center is that it is built using the same tech stack as the Service Portal platform. This means customers have the access to the same technical capabilities as the Service Portal, including being able to use the Service Portal Designer and more than 200 widgets.
ServiceNow Employee Center features deep dive
The portal home page for Employee Center and Employee Center Pro solves several key issues customers have, namely that they struggle to design an employee-centric portal. EC and EC Pro come with best practices-based portal home pages out-of-the-box that are ready to deploy for customers, fully loaded with relevant widgets. This means it can serve as an excellent starting point for designing their own portals.
Content Experiences
Employee Center Pro offers what ServiceNow calls "Content Experiences." These were formerly known as "Campaigns," and have the same capabilities as the functionality that has been available since Quebec. Content Experiences bring together the Campaign Builder (first released in Paris), Campaign Preview (first released in Quebec) and Content Publishing (also first released in Quebec.
Curated Experiences
Curated Experiences are also a new feature in the Employee Center in Rome. Curated Experiences is a combination of widgets and portal pages that use an employee-centric taxonomy to enable content delivery experience based on employee needs. You can add multi-department portal pages to be part of the Employee Center portal to give a unified experience. Curated experiences drive the employee-centric discovery experience across the portal. It offers a combination of widgets and portal pages that use a unified content taxonomy to drive content experience based on the employee's needs.
Curated Experiences solves the problem of portal users struggling to find the right content to get help or information they need because the content is not organised in employee-centric terminology. Curated Experiences solves this through a new unified taxonomy - a collection of hierarchical topics that bring together different content types (such as requests, articles, quick links or employee communications) across departments into a single employee-centric taxonomy. This taxonomy is supported by a data model against which the content is mapped. This is essentially the top three levels of content, such as IT -> Hardware -> Printers.
My Active Items
Another important Employee Center widget is My Active Items. It solves a situation when there is no single one-stop shop for employees to find all the open activities across different departments. My Active Items provides easy access to all activities and tasks across business units or departments. It uses a framework that lets business unit apps (and customers) add configurations for their own activities (such as Tasks, Requests, Reservations, Plans, Surveys, etc.), which makes it easy to scale the home page from one department to multiple departments without any customization.
Recommended For You
The Recommended For You widget updates the previous 'Relevant For You' widget and combines content types (Catalog Items and Knowledge Base articles) into a single list view for the user. The Relevant For You was only available for HRSD customers, but the updated Recommended For You widget is available for all customers.
Quick Links
The Quick Links widget is probably the most known and used widget in the Service Portal. The new employee center version has multiple options to adjust its look and feel, including displaying an icon and an image. The biggest benefit it brings is the ability to add visual links to the homepage without modifying a page. It enables administrators to link or pin important content for users to access from the home page and topic pages. It supports quick links to the Service Catalog, Knowledge Base articles, the Portal page and external URLs. Admins can also control visibility.
Approvals
Approvals have also been improved in the Employee Center. The improvements include a detailed view on the to-dos page for REQ/RITM/HR case approval types to show fundamental information with labels. Comments have been made mandatory if a rejection path has been taken. There is also the ability to view completed records and HR case approvals - you can now see in one place who is requesting what. Notification templates correspond to the theme, and are more responsive.
The Employee Center: A major step forward
With such a combination of powerful functionality and employee-centric experiences, it's clear why ServiceNow's Employee Center represents a major step forward. We look forward to working with you to implement it as part of a new portal implementation or part of a migration from a previous service portal solution.
GuideVision's RADAR is an internal knowledge-sharing platform whose overall goal is to boost and enhance internal knowledge sharing. We publish summaries of selected presentations from RADAR both as a way to inform the overall ServiceNow community and as an insight into the way we work. If you're interested in learning more about careers at GuideVision, find out more here.
Subscribe to our newsletter
Thank you!
You have successfully subscribed to our newsletter.
Please enter your details