back to insights
next insight
Creating a great employee experience with ServiceNow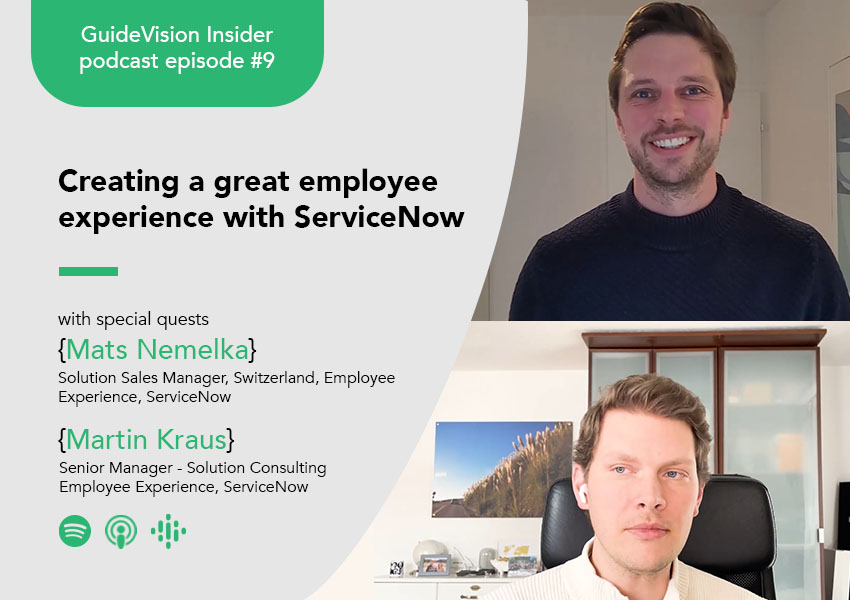 Employee experience is becoming an increasingly important topic for companies, and for ServiceNow as well. But what are the elements of employee experience, and what does it have in common with one-click shopping? To find out, we spoke with Martin Kraus and Mats Nemelka of ServiceNow for the new episode of the GuideVision Insider Podcast.
Martin leads the solution consulting team for ServiceNow for Switzerland, Germany, Austria and Eastern Europe, and Mats is an employee experience solution specialist for ServiceNow, working on Martin's team.
They explained that employee experience is a combination of several processes that, when assembled together in the right way, can bring improved productivity, greater employee satisfaction and lower costs for companies. And just like one-click shopping, employee experience is made up of dozens, if not hundreds, of individual workflow processes. ServiceNow is a platform that excels at workflow, and the employee experience as powered by ServiceNow can bring numerous benefits.
As Mats explains, employee experience is a triangle with three elements: Employee engagement, productivity and automation. These come together seamlessly for the employee in ServiceNow's suite of tools.
The pandemic also showed the importance of workplace flexibility, Martin explains. Companies that did not digitize their workflows found themselves greatly limited in what they could do, while those that made investments into digitalization are reaping the benefits not only in terms of improved productivity and cost savings, but are also able to attract and retain employees, he says.
Another shift is underway, Mats points out: In the next decade, people entering the workforce will be 'digital natives,' having had mobile technologies all their lives. This new generation has a different set of expectations for what companies should deliver, and how.
Martin also provides an overview of the development of ServiceNow's best-of-class employee experience solutions, and explains that it has evolved due to companies seeing what could be done with IT service management, and applying similar workflows for HR.
The GuideVision Insider podcast is available on all major podcast platforms, and in video form on YouTube, Spotify, and here on our website.
Subscribe to our newsletter
Thank you!
You have successfully subscribed to our newsletter.
Please enter your details