back to insights
next insight
ServiceNow reports excellent results in Q3 2021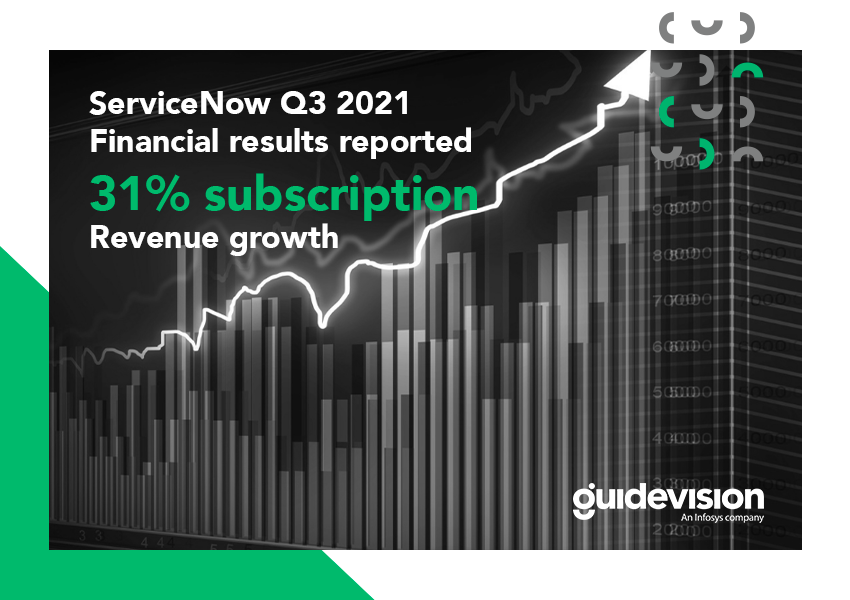 ServiceNow announced its financial results for the 3rd quarter of 2021, and the outlook is strong for the Now Platform. The company delivered another outstanding quarter, yet again significantly exceeding the high end of its guidance across all metrics. Subscription revenues increased an impressive 31% year-on-year, for example.
"As the pioneer of modern digital workflows, ServiceNow is leading the renaissance," said ServiceNow CEO Bill McDermott in the Q3 earnings call. "The Now Platform connects different applications and data sources to create intuitive mobile experiences, all at a consumer grade. We don't ask businesses to bet everything on a single system or collaboration tool. We give choice, which not only unlocks value from our platform but from other platform investments as well."
'ServiceNow is leading this 20th to 21st century migration for our customers," McDermott said. "The Now Platform, with its immense versatility and scalability, has become the control tower for digital transformation. The second dimension fueling ServiceNow is the reordering of the enterprise application platforms for hyperautomation. Leaders today recognize their technology architecture is their business architecture."
The third quarter of 2021 also saw ServiceNow's Rome release, which includes a number of major features, including Mobile App Builder, an Automation Discovery tool, Employee Journey Management and new Customer Service Playbooks.
Artificial intelligence also plays a key role in the Rome release's Automation Discovery tool. It now has the ability to deliver AI-powered service operations by identifying opportunities to automate, and the system can help people stay productive by helping to predict and resolve problems more quickly with AIOps enhancements. Rome's new mobile app builder makes creating mobile apps based on ServiceNow much easier, faster and more powerful.
In addition to the Rome release, the Now Platform also added new ways to integrate with other platforms in Q3 2021. For example, ServiceNow and Microsoft have integrated workflows for functions like IT, HR, facilities and procurement into Microsoft Teams as part of the two companies' strategic partnership.
As part of the Rome release, ServiceNow launched Employee Center, a hub for employees to find information and get help across various departments such as IT, human resources, facilities and legal. Using the Employee Center, employees can save time on mundane tasks, become more productive and possibly avoid burnout. ServiceNow's Employee Center is now available as a collaborative app that can be embedded into Teams. Collaborative apps are a set of Teams apps that can be used across chat, channels and meetings.
"Whatever systems, challenges or opportunities you have, however fast you need to move, you have a trusted innovator in ServiceNow," McDermott said. "We want to make the world work better for everyone, and we'll never lose our focus on the privilege that comes with saying, the world works with ServiceNow."
GuideVision is a ServiceNow Elite Partner, focusing exclusively on ServiceNow-powered solutions, GuideVision has assembled a strong, international staff of not only technical experts, but expert consultants on human issues such as process and workflow design, as well as organisational change management. In addition, GuideVision is a member of the Infosys family of companies, which provides even greater scale and expertise.
Interested in how ServiceNow can help power your company's digital transformation? We'd love to hear from you.
Subscribe to our newsletter
Thank you!
You have successfully subscribed to our newsletter.
Please enter your details
Thank you!
You have successfully subscribed to our newsletter.