back to insights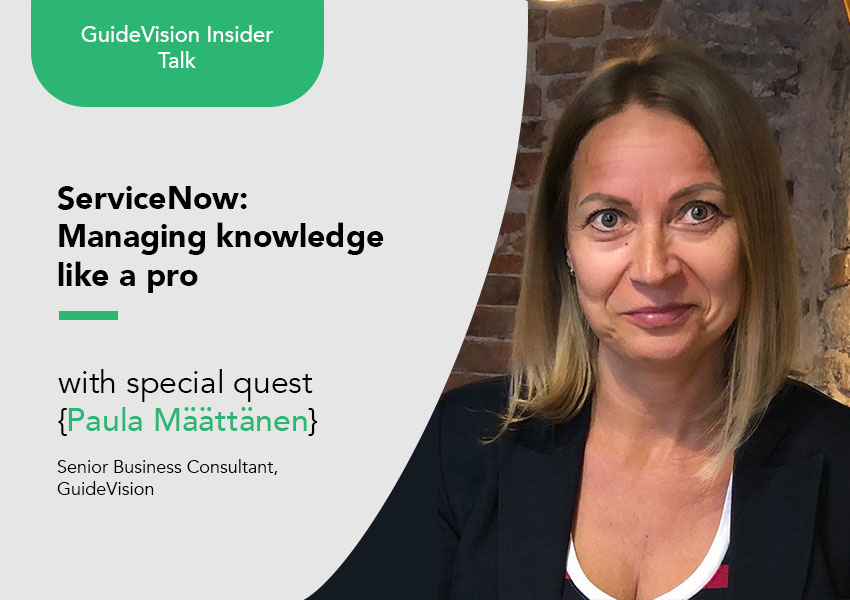 As GuideVision Senior Business Consultant Paula Määttänen sees it, many companies underestimate the importance of thinking through the knowledge management process, especially in ServiceNow.
She has three tips: First, if you do knowledge management in the correct way, it can really help your team support users and customers. Second, good knowledge management means you can better utilize existing systems. Third, you're sharing information efficiently and effectively.
Paula recently gave a talk on the importance of good knowledge management at the ServiceSpace ITSM conference. She says that leveraging ServiceNow's knowledge management tools - and not just the Knowledge Base - is really a process that can help the whole organization. It means you have the correct information for the correct audience at the correct time.
You can watch our interview with Paula Määttänen by clicking the button below. In it she goes into depth about the importance of knowledge management, as well as her impressions of the ServiceSpace conference.
The GuideVision Insider podcast is available on all major podcast platforms, and you can watch a video version on YouTube and the GuideVision website.
Subscribe to our newsletter
Thank you!
You have successfully subscribed to our newsletter.
Please enter your details