back to insights
next insight
RADAR 43: Sharing knowledge and best practices in and around ServiceNow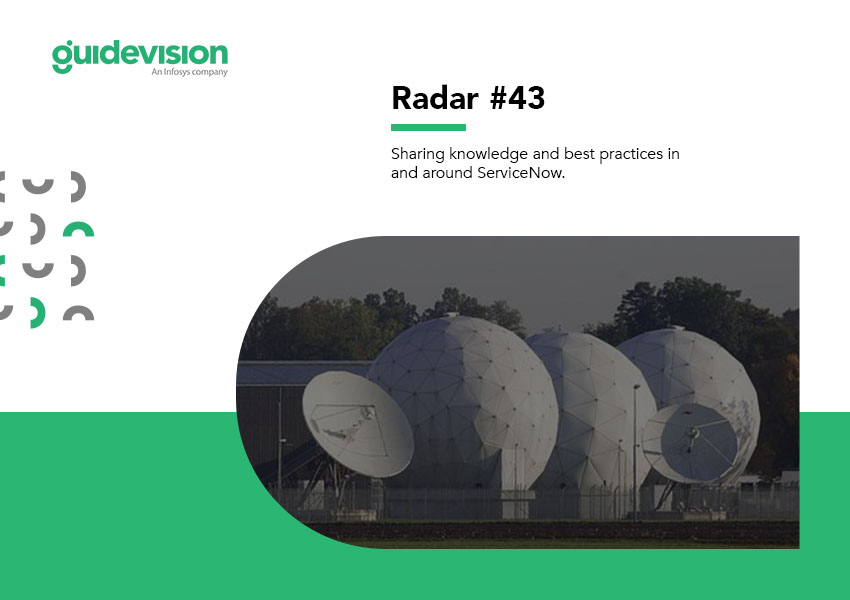 At GuideVision, our values are central to our work. And central to those values is commitment to knowledge and improving skills. There are many ways we improve our team members' skills, but one of the most engaging and interesting is RADAR, an all-hands internal knowledge-sharing event.
We just wrapped RADAR 43, our first in-person since covid, and it was great to get our colleagues together again. RADAR 43 featured a diverse selection of talks that primarily focused on ServiceNow. Topics ranged from ServiceNow subscription management to an introduction to robotic process automation to mobile apps in ServiceNow. Even if the topics were out of one's comfort zone, the friendly presenters did a good job of getting everyone up to speed.
Solution Consultant Anna Solska from GuideVision Poland presented a deep dive into ServiceNow's subscription management, and presented several areas in the way ServiceNow handles subscriptions that, if left unnoticed, could create large charges for customers as well as making it more difficult to make changes to the system in the future. Luckily, she showed several workarounds and talked about best practices in setting up ServiceNow's subscription management application.
Senior Consultant Jan Švihálek from GuideVision in the Czech Republic shared his expertise in his talk on robotic process automation, a form of business process automation where "bots" are deployed as a substitute for humans in routine, error-prone and high-volume manual processes. As he pointed out, RPA minimizes errors "because it's done by robots all the time and in the same way." Jan showed how RPA works in ServiceNow as well as some real-world use cases, and how it can be used to save money.
Creating a business case for CSDM, or the Common Service Data Model, was the topic of a talk by GuideVision's Jan Procházka, one of the handful of ServiceNow Certified Master Architects worldwide. Jan's advice is to concentrate on the real value CSDM brings to clients. He gave a detailed overview of what CSDM is and isn't, and how it can be brought to bear for clients. As Jan explains it, "The CSDM is all about doing CMDB right."
With CSDM, there are two parts: Common Service and Data Model, and it's important to understand what is what. "One is to do the right things, the other is to do things right. It's the difference between what and how. In other words, doing the right things is the 'what', which requires leadership. Doing things right is the 'how,' which requires management." He also recommended to leverage the power of referential best practices in industries, and gave examples such as TMF in telecoms, TOGAF or the TBM Framework.
GuideVision's Hungary team was represented by Aleksandr Abdurasitov, ServiceNow Consultant, who gave a talk on ServiceNow mobile apps. He explained the differences between the three ServiceNow apps (ServiceNow Mobile, ServiceNow Agent and the now-obsolete ServiceNow Onboarding), and explained how the three can be extended through the use of plugins available in the ServiceNow store. These include the ITSM Mobile Agent for ServiceNow Mobile, which allows employees to work with things like incidents through their mobile device.
ServiceNow's Catalog Builder was the topic of ServiceNow Consultant Jan Černocký's talk. Jan is one of GuideVision's newer employees, having joined in September 2021, but he has extensive experience with ServiceNow from his previous engagements. As he explains it, the Catalog Builder lets business owners create catalog items in ServiceNow by themselves. It was originally introduced in the Quebec release, and its main goal is to support citizen development. While there are limitations, which Jan pointed out, the approach does show promise by freeing up technical resources for more complicated problems.
GuideVision's RADAR is an internal knowledge-sharing platform whose overall goal is to boost and enhance internal knowledge sharing. We publish summaries of selected presentations from RADAR both as a way to inform the overall ServiceNow community and as an insight into the way we work. If you're interested in learning more about careers at GuideVision, find out more here.
Subscribe to our newsletter
Thank you!
You have successfully subscribed to our newsletter.
Please enter your details