back to insights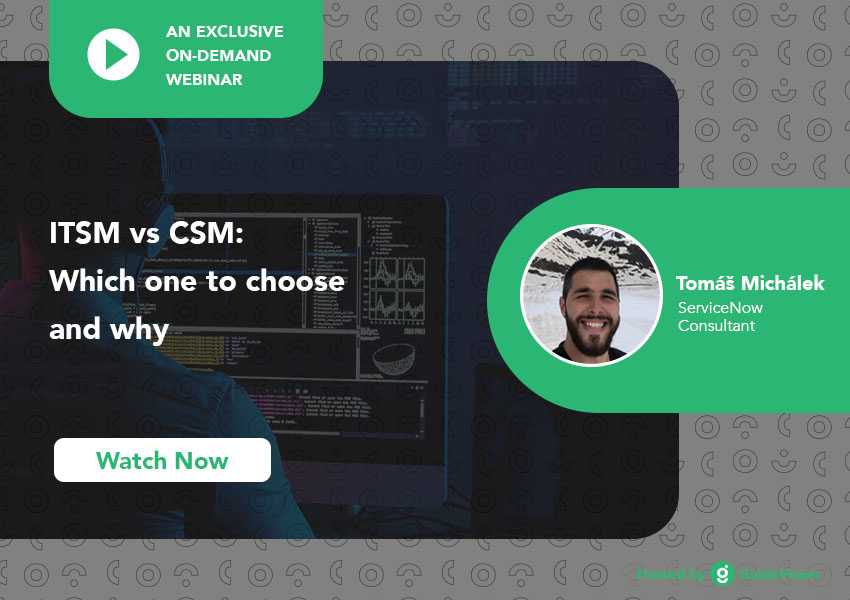 Does your company lack service management processes and you don't know which is right for you? Our webinar will focus on the fundamentals of Customer Service Management (CSM) and IT Service Management (ITSM), their differences, which to use, and when.

Most companies using ServiceNow have implemented it in an effort to automate collaboration between their business and IT departments. The business and IT departments should work closely together: IT handles business problems such as installing and preparing hardware for employees and company operations, and business supports IT's requirements for modernisation, security, and streamlining the work throughout the company. IT Service Management is a field most companies know well, and they're used to operating within its framework.

But companies don't just have to deal with requirements from their internal departments. We all know that in business, customer satisfaction is one of the key areas where companies must excel if they want to stay afloat and prosper. This is why it's so important to have a relationship with the customer and the issues they face.

Today it's not enough to have a simple web form to report problems or a phone number with an operator who writes problems down. Companies must have multiple communication channels, a self-service portal, a system for managing customer requests that records their problems, a team of agents who can deal with requests and pay attention to customers so that they know about their issues and resolve them as soon as possible.

If you think you can use an ITSM module to handle customer problems, this webinar will be very useful.

- We'll explain the difference between handling problems inside the company (ITSM) and customer service (CSM).
- We'll talk about when it's good to implement which module to support your company's processes.
- You'll learn how difficult it is to implement both modules, and when it pays to use pre-defined solutions that directly fit your company's needs.
Do you have any questions regarding ServiceNow? Do not hesitate to CONTACT US.
Subscribe to our newsletter
Thank you!
You have successfully subscribed to our newsletter.
Please enter your details